Prices are Canadian (CAN) dollars. For non-Canadian orders,
the exchange rate will be determined by your credit card company
or financial institution when your order is processed. US Prices are approximations based on the average exchange rate of the day.
Kendrick Inverters & Converters
12 Volt to 15 & 18 Volt Inverter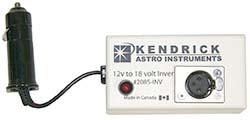 This is a stand-alone inverter that will convert 12 vdc to 15 (for Astro Physics mounts) & 18 vdc (for Meade classic, Losmandy Gemini and Gemini II and Takahashi mounts). This is an excellent product for anyone who already owns a battery and needs to provide 15 or 18 volt power to a GoTo telescope or mount.
These inverters are not susceptable to fluctuating battery voltages that can be caused by fluctuating power demand. The inverter voltage will remain constant.
Simply plug the inverter into a cigarette lighter socket on your battery and the inverter will change the 12 volts on your battery to 15 or 18 volts, depending on which inverter you purchase.
This is the same inverter that is built into our 2081-18, 2081-15, 2083 and 2083-15 batteries.
This device will require the purchase of one of our specialized Telescope Power Cables to power your telescope mount. The power cable goes from the inverter to your telescope mount's power plug.
INVERTERS ARE IN STOCK
| | | | |
| --- | --- | --- | --- |
| SKU | Description | Price | |
| 2085-INV | 12 volt to 18 volt Inverter for Meade LX200 Classic, Losmandy Gemini and Gemini II, Takahashi mounts. | CAN $177.00 | |
| 2085-INV-15 | 12 volt 15 volt inverter for Astro Physics GoTo mounts. | CAN $177.00 | |
120 Volt to 12 Volt Converter
Our dew control systems require 12 volts DC. If you are using a battery to run the system, we recommend a 5 amp hour battery as a minimum. If you want to run the system from a wall plug, you will need a 120 volt to 12 volt DC "Regulated" step down power supply with a minimum output of 5 amps.
Pictured to the right are our Regulated 120 volt to 12 volt DC power supplies which are excellent for operating our systems from a wall socket. We also build portable 12 volt power packs and offer other power solutions that can be used with all your astro equipment that is used in the field. See Power Packs for more information on the power systems we offer.

| | | | |
| --- | --- | --- | --- |
| SKU | Description | Price | |
| 2078 | 120v 10 amp Power supply, converts 120v to 12VDC. 10 amp output. IN STOCK | CAN $225.00 | |
| 2085 | 120v 5 amp power supply, converts 120v to 12VDC. 5 amp output IN STOCK | CAN $130.00 | |
| 208-IPP-PS15A | Optional, 240/120vac to 12 vdc, 15A power supply. For those who prefer to use mains electricity over a battery to provide power to the Imaging Power Panels. | CAN $284.00 | |
Hand-held Digital Voltmeter
These hand-held digital volt meters are excellent for anyone who has an unmetered battery and wants to easily and quickly check their battery voltage.

The LED lettering is red as shown in the photograph.

They have an operating voltage range from 8 to 30 vdc.

No batteries are required. Simply put it into a cigarette lighter socket to get a voltage reading.
| | | | |
| --- | --- | --- | --- |
| SKU | Description | Price | |
| 2079-VM | 8 to 30 VDC Hand-held Digital Voltmeter | CAN $19.00 | |