Prices are Canadian (CAN) dollars. For non-Canadian orders,
the exchange rate will be determined by your credit card company
or financial institution when your order is processed. US Prices are approximations based on the average exchange rate of the day.
Kendrick RC Optics Heaters
GSO RC Secondary Mirror Heater
These heaters are designed to fit behind the mirror of "tube versions" of GSO RC-8, RC-10 and RC-12 Ritchey Chretien telescopes. It is a flexible, split ring design, which makes it very easy to install. It fits onto the back of the secondary mirror housing and is held in place by silicone glue (user provided).

The Heater is thermally insulated with 1/8" (3mm) thick neoprene sponge foam. The foam is bonded to the heater. The foam will help the heater to direct the heat into the secondary mirror housing and aid in preventing excessive heat loss into the atmosphere and giving better heater performance.

Will this heater work on the new Truss-Tube" models? We aren't sure, but we would love for someone who owns one to drop by our shop for a fitting. We have 1 report from a customer who has a 12" Truss-Tube model who reports that the design of the spider/mirror assembly changed and the gap between the spider vanes and mirror housing is now too narrow for the heater to fit as intended. Our best advice is to make some careful measurements and consult the specs. shown above.

Tech Specs:

12 vdc, 5 watts, .4 amps
Outsidth width...3.5" (90 mm)
Inside width...2.625" (65 mm)
Overall thickness...0.195" (4.85 mm)
Wire length...18" (460 mm)
| | | | |
| --- | --- | --- | --- |
| SKU | Description | Price | |
| 2028-GSO | 90 mm, flexible, thermally insulated Secondary Mirror Heater | CAN $106.00 | |
Other RC Secondary Mirror Heaters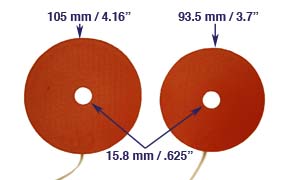 These heaters are designed to fit behind the mirror, inside the cell. If your mirror cannot be removed from the cell, or the cell is designed in such a way as to prevent a heater from being inserted behind it, you will not be able to use this heater.
Wire leads are in 2 segments, each with small "quick connectors" to make it easy for wire leads to exit the mirror shroud. Wire leads are 3.5" on the heater and a 43" extension to route across the spider vanes. Segments are joined with "quick connectors" and the extension wire terminates with an RCA plug. We also include a 70" RCA male-to-male extension cord and female coupler.
| | | | |
| --- | --- | --- | --- |
| SKU | Description | Price | |
| RCS-2 | 94 mm Secondary Mirror Heater | CAN $98.00 | |
| RCS-3 | 105 mm Secondary Mirror Heater | CAN $100.00 | |