ALL NEW DESIGN – 4 NEW Secondary Mirror Heater Models for "GSO" RC Style Telescopes
The new models address the ever-changing secondary mirror designs found on "GSO" style telescopes (sold under several brand names) made over the last decade. Easy to install and no need to disassemble the mirror assembly.
Heater sizes are based on the diameter of the secondary mirror shroud. To determine the correct size, simply measure the outside diameter of the mirror shroud and find the model that comes closest to the measurement you made.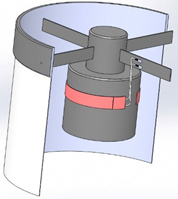 Tech Specs:
Our most recent research found that primary mirror size tends to have secondary mirror sizes as shown below, but you should still take your own measurement to be certain.
To make heater installation easier, the heater wire leads have been divided into two segments. Each segment has small quick connectors installed onto them. The wire leads out of the heater are 6" (150mm) long. Once the heater is properly secured to the mirror shroud the second wire segment in connected to leads coming from the heater. This is a 42" (1065mm) extension which is routed across one of the spider vanes. This extension wire terminates in a female RCA plug. This connects to an RCA male-to-male extension cord (included) which goes from the heater's female RCA connector to a Kendrick dew controller.