Prices are Canadian (CAN) dollars. For non-Canadian orders,
the exchange rate will be determined by your credit card company
or financial institution when your order is processed. US Prices are approximations based on the average exchange rate of the day.
Kendrick Dew Controllers
The Kendrick Dew Remover System is the Gold Standard for removal and prevention of dew (or frost) from forming on optics. Our products are used worldwide by amateur and professional astronomers, hospital operating rooms, and dental practices. We have an impressive product line-up to suit every application and budget.

$ Micro-D Controller - Limited Supply!

Light-Duty "grab-n-go" dew control and DSLR Power supply. Perfect for camera lenses and small refractors.

$ Standard Dual Channel Controller - In Stock!

A simple but effective controller for telescopes of all sizes.

$$ DigiFire FX-PRO 4 Channel Controller with Temperature Control -

Our heavy-duty "Prosumer" model with 4 individual adjustable heater ports and programmable power supply suitable for powering popular DSLR cameras.This model also adds temperature sensors.

$$$$ Premier Observatory Class Controller Dew Control AND Focuser Control - Coming Mid 2021

Our Observatory Class Model with all of the features of our DigiFire 12 model PLUS:

Remote operation – control your dew heat via internet!
Wireless connection between controller and observatory computer
User upgradable firmware
Optional Temperature Compensating ASCOM Focuser – will drive most popular focusers fitted with a stepper motor. Also includes a wireless remote for manual focusing. Also controllable by SmartPhone/Tablet App.
Availability - Summer/Fall 2021
This is a "discontinued" model, but we found a box of them during a recent move, and have a limited number for sale until supplies last.
The "MICRO-D" Controller is designed for Astronomers and Astrophotographers who want the best in lightweight, compact, Grab'n'Go gear. Despite its small size, this controller is not small in its performance or build quality. It is well built and well thought out. It does have a power restriction of 3 amps or less, so do consult our heater pages where we publish current draw (amps) for our heaters.
The controller has two slotted tabs that can be used to attach the supplied lanyard so that the controller may be hung from a convenient location. Velcro tabs are also provided if you prefer to "stick" the controller to your telescope or mount. Also, the mounting tabs are convenient for anyone who wants to mechanically mount the controller with screws to a Dobsonian telescope base, Dobsonian upper tube assembly, inside an eyepiece box or wherever else one may wish to mount the controller.
TECH SPECS for the Micro-D Controller:

ELECTRICAL SPECS: 12 VDC, 3 amps.
MICRO-D Model: Single channel, one RCA output for heater attachment and 1 output at 8 vdc for powering a DSLR camera. Connector is a 5.5mm x 2.5mm DC Power Jack (requires the purchase of one of our DSLR power Couplers). (Canon & Nikon cameras)
MICRO Model: Dual Channel with 2 RCA Heater Ports
Simple rotary knob control.
LED Power status indication.
Low voltage cut-off control. (a Kendrick standard!). IMPORTANT NOTE on this feature.
RFI Clean. A must for CCD imagers!
Pulse Width Modulation duty cycle control.
Reverse polarity protected (a Kendrick standard!).
Fused on board with Auto Reset. (the provided power cord is fused as well at 7 amps)
Mating Terminal Block power input. This will allow users to terminate the controller power cable in a connector of their choice.
Fused power cable included (cigarette lighter plug).
Weight: 1.6 oz (30 grams)
Dimensions (excluding tabs): 65mm x 36mm x 25mm (2.56" x 1.4" x 1.0")
(including tabs): 80mm x 36mm x 25mm (3.15" x 1.4" x 1.0")

All Kendrick Dew Controllers include a Power Cord that uses a Cigarette Plug with an internal 7 Amp Fuse.
Mirco and Micro-D User Guide
(PDF)
IMPORTANT NOTE: The MICRO-D Controller is designed as "light-duty". It is very compact and light weight... perfect for "grab & go" using small batteries. They are NOT designed to run large heaters. Suitable applications include:
Small refractors up to 4" diameter
Newtonian secondary mirror heaters
Camera lenses
Eyepiece heaters
| | | | |
| --- | --- | --- | --- |
| SKU | Description | Price | |
| 2001-MICRO-D | Micro Controller with 8 vdc power supply and one heater port | CAN $156.00 | |
Standard Dual Channel Controller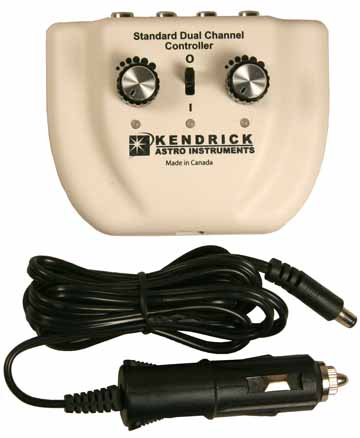 This controller has been introduced to replace our original, long standing Model VI controller. The Standard Dual Channel has a ton of new features but is really simple to use! As well, it can handle more power and use that power more efficiently! We are very excited about this newest addition to our Dew Remover System!
Features & Specifications:
Rugged Plastic Case with modern styling.
Zero to 100% heater control.
Fused onboard. Auto Reset.
On board protection from over current, over temperature, over voltage.
LED overcurrent indication at both outputs.
10 amp capacity (5 amps per channel).*
6' detachable fused Power cord. Cord is fused at 7 amps.
Reverse polarity protected.
On/off switch (no other dew controller on the market has this).
RFI (radio frequency interference) free. A critical feature for astro imagers!
Pulse Width Modulation duty cycle control.
4 outputs, 2 for each control knob.
LED Power on indicator for both outputs.
Low voltage cut-off control with LED indication (a Kendrick standard!). IMPORTANT NOTE on this feature.
Mosfet transistors built on board and on EACH output (no voltage drops!). Get the best possible performance out of your heaters!
Velcro attachment. Parts included.
12 VDC operation.
Dimensions: 4" x 3" x 1.35" (1.75" with knobs).
1 Year warranty
* We have fused the power cord at 7 amps even though the controller is capable of amperages of 5 amps per channel (10 amps total). We do not recommend replacing the power cord fuse with a larger fuse as the power input socket is not rated for a higher amperage.
Standard Dual Channel Controller Manual (PDF)
Controller Feature Comparison (PDF)
| | | | |
| --- | --- | --- | --- |
| SKU | Description | Price | |
| 2001-SDCC | Standard Dual Channel Controller with 4 outputs/14 amps maximum/12VDC | CAN $149.00 | |
| CDC-PC-BATT | 6 ft Replacement Power Cord with 7 amp fuse for SDCC Controller | CAN $24.00 | |
NEW>>> DigiFire FX-PRO Controller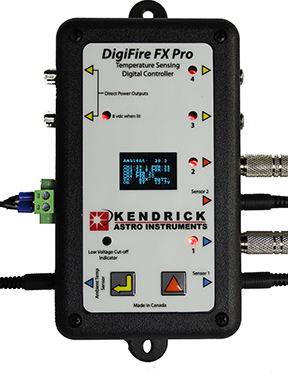 We think you will agree that this is the best Dew Controller ever made.
The FX-PRO controller is our heavy-duty "Prosumer" model with 4 individual adjustable heater ports, temperature sensors, and programmable power supply suitable for powering popular DSLR cameras. The new DigiFire FX-PRO model has all the features of our former DigiFire 12 model, plus some impressive new improvements.
Product Features:
New OLED Graphic Display which displays all settings at a glance.
Built-in Voltage Meter
Heavy-Duty, individually adjustable power output for up to 4 heaters.
Built-in 8V DSLR Power Supply. Just add our DSLR Battery Adapter and power you DSLR from the Dew Controller. †
2 DC Accessory Ports

1 Port 12V up to 7 Amp output
2nd port programmable for 12V OR 8V (DSLR Camera Power). Up to 1.5 Amp output

15 Amps total power (max 7 Amp with Cigarette Lighter Plug).
Dimmable lights! In fact, after 2 minutes, they shut-off! Pressing 1 of the 2 control buttons will "wake-up" the lights again, or you can also set the lights and graphic display to remain ON
User Changeable Cord. We strongly recommend you "ditch the Cigarette Lighter Plug". Chose you own or add our Anderson Power Pole plugs to get all 15 Amps the unit is capable of delivering.
Cord Management - Power other devices using the 2 DC Accessory Ports. For example, our 12V USB Hub.
Low Voltage Cut-Off - A Kendrick Standard that saves your battery from permanent destruction.
NEW>> Disable Low Voltage Cut-Off. We don't recommend it, but if you want to drain your battery beyond repair it is now possible.
Reverse Polarity Protection
DigiFire FX-PRO - Temperature Sensing Features
Temperature Sensing control for 2 of the 4 heater ports.

Heaters are only powered when the temperature of your optics reaches the level you choose. It works on the difference between Ambient Air Temperature and the temperature of your optics. Choose a setting that is 0-10 C°
Prevents unnecessary over-heating (which degrades image quality)
Saves battery power

Traditional "Duty-Cycle" settings are also available on all 4 heater ports
Sensors included: 2 - 1 of these is the Ambient Air Temperature and the other is the Optic Temperature Sensor. Additional Sensors are optional. If you want to use Temperature Regulation on a 2nd optic (telescope), order an extra Temperature Sensor.

Anderson Power Pole Option: All Kendrick Dew Controllers include a power cord with that uses a Cigarette Lighter Plug with an internal 7 Amp fuse. Some astronomers prefer Anderson Power Pole Connectors which are superior to cigarette lighter plugs. We also terminate the power cord with a special "pluggable terminal block" which makes it easy to make your own power cord. For convenience, we offer 2 Anderson Kits that include the Red & Black plastic shells and 2 metal contacts. The "Pre-Welded" model permanently fuses the plastic shells together using a plug orientation that works with Kendrick Power Supply/Distribution products. If you are unsure of the plug orientation you need, purchase the "non-welded" model.

Extra Power Cords are available.. The controller does include a power cord, but some people like a spare cord and they are available for purchase.

†The DSLR power supply is designed for normal astrophotography applications. Specifically, long exposures with momentary delay between exposures. It is NOT designed for daytime "burst" exposures.

Want a spare Power Cord? Now Available!
| | | | |
| --- | --- | --- | --- |
| SKU | Description | Price | |
| 2001-FX-PRO | DigiFire FX-PRO Temperature Sensing Controller with 4 heater independently controllable outputs, 2 DC Accessory Ports, 8V DSLR Power Supply, 15 Amps | CAN $369.00 | |
| 2001-12-SCBL6 | Temperature Sensor and 6' Cable for DigiFire Models FX-PRO and 12 | CAN $56.00 | |
| 2001-DF812-PWR | DigiFire Power Cord (models 8 / 12 / FX / FX-PRO | CAN $30.00 | |
| 208-IPP-ACKIT | Anderson Power Pole Pre-Welded Plug Kit with 30 Amp Contacts | CAN $8.00 | |
| 208-IPP-AC-UF | Anderson Power Pole Non-Welded Plug Kit with 30 Amp Contacts | CAN $7.00 | |
Coming Late Fall 2021

The next generation of Observatory Class Dew Controller will be much more than a Dew Controller. The new controller has been on the drawing board for several years now and has evolved to include a number of new capabilities that go well beyond dew control alone. The feature list is still top secret, but we can promise that it will have everything that you would expect to see in a professional observatory at a price point that will be affordable to amateur astronomers. Take note that the photo seen here does NOT show some of the features that will included in the final production version.


Some features that we can talk about now:

It is smaller and lighter than our original Premier Controller

It has the same features as the original Premier Controller plus many more. Of course, it will have:.

4 heater ports
Sensors for temperature: ambient, dew point (including barometric pressure), optics
Remote Control via local computer connection
In all, this 1 device will replace as many as 5 separate devices. Still TOP SECRET, but worth waiting for!

If you want to be notified when the controller becomes available, please join our Premier Controller Notification List. This will be a one time only mailing and you will not receive other product notifications from us.
We recommend that you put your heaters in place at the beginning of an observing session and turn your controller on right away. If you are using Premier Heaters, or heaters for Newtonian or RC Telescopes, we recommend a controller setting that represents about 20 to 40% If you are using FireFly or MICRO FireLite Heaters, we recommend a setting of about 60 to 80%.
If moisture has already condensed on your optics, we recommend covering the optics, turning the heaters on high and waiting 20 to 30 minutes. Once the moisture has cleared, lower your controller setting and resume observing.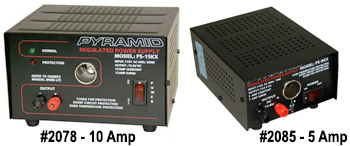 Our dew control systems require 12 volts DC. If you are using a battery to run the system, we recommend a 5 amp hour battery as a minimum. If you want to run the system from a wall plug, you will need a 120 volt to 12 volt DC "Regulated" step down power supply with a minimum output of 5 amps.
Pictured to the right are our Regulated 120 volt to 12 volt DC power supplies which are excellent for operating our systems from a wall socket. We also build portable 12 volt power packs and offer other power solutions that can be used with all your astro equipment that is used in the field. See Power Packs for more information on the power systems we offer.
How much power do you need? Add up the current draw from all connected equipment and then multiply by at least 2. Generally, you want a power supply that can deliver twice as much power as you think you might need. Otherwise, an overworked PS is going to fail or even get excessively hot.

NEW Big-Honkin 25 Amp Power Supply (110VAC or 220VAC)! Big mounts, cooled CCD Cameras, Dew Heaters use a lot of juice. 25 Amps is enough power to run just about any device you would ever need.
| | | | |
| --- | --- | --- | --- |
| SKU | Description | Price | |
| 2085 | 120v 5 amp power supply, converts 120v to 12VDC. 5 amp output IN STOCK | CAN $130.00 | |
| 2078 | 120v 10 amp Power supply, converts 120v to 12VDC. 10 amp output. IN STOCK | CAN $225.00 | |
| 208-PS25A | 110/120VAC to 12 vdc, 25A power supply. North American Plug | CAN $329.00 | |
| 208-PS25A-EU | 220/240VAC to 12 vdc, 25A power supply. EU (type "F" Plug) | CAN $339.00 | |
| 208-PS25A-UK | 220/240VAC to 12 vdc, 25A power supply. UK (type "G" Plug) | CAN $339.00 | |