Prices are Canadian (CAN) dollars. For non-Canadian orders,
the exchange rate will be determined by your credit card company
or financial institution when your order is processed. US Prices are approximations based on the average exchange rate of the day.
Kendrick Dental Mirror Heater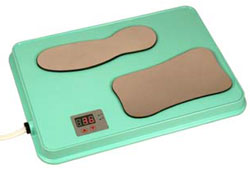 Fogged over problem will be a thing of the past with our new Digi-Klear dental mirror heater.
Intraoral dental mirrors are famous for misting or fogging over once inserted into a patient's mouth, making it difficult and tedious to get a good image of your patient's teeth.
What is required to prevent misting or fogging of the mirror is warming the mirror to at least body temperature but preferably higher so that there is enough time to get all the images required before the mirror cools and starts misting or fogging over again.
Inexpensive and very easy to use. Simply place it on a flat work surface, plug it in and wait for 5 minutes. The mirrors will warm up to a preprogrammed temperature that is optimal for mirror warmth and patient comfort. Once the mirrors are warmed up, they will stay fog and mist free for several minutes before you need to warm them up again.
If you or your patients find the temperature too warm, you can configure the Digi-Klear to operate at a lower temperature. This is a very easy, two button process and take only seconds.
The Digi-Klear is constructed of plastic for long life and durability. The surface is smooth for easy sterilization with sterile wipes (do not immerse).
Features:
Warms intra-oral dental mirrors quickly and to a safe, comfortable temperature.
Very easy to use. Plug it in and wait 5 minutes.
Built in safety temperature control. Automatic temperature regulation.
Preprogrammed. User adjustable temperatures. Celsius or Fahrenheit display options.
Easy to sterilize.
Digi-Klear intraoral dental mirror heater specifications:
Dimensions: 10.5" x 7.25" x .75", 264mm x 184mm x 20mm
Weight: 12.5 oz, 155 grams
Electrical requirements: 110 VAC,60Hz, 30 watts Minimum
UL Approved.
One year warranty.
WARNING: For countries that use 220/240VAC. You will require a proper AC Transformer that can convert to 120VAC @ 60 Hz. A simple "plug adapter" is NOT sufficient.
Digi-Klear intraoral dental mirror heater

SKU
Description
Price
DMH-001
Digi-Klear Intraoral Dental Mirror Heater
CAN $194.00