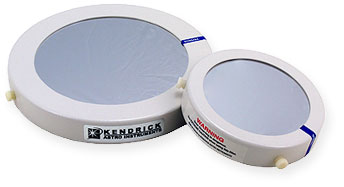 Are you ready for the April 8, 2024 Solar Eclipse? Deadline for ordering is March 22, 2024. Beware that many models will be SOLD OUT well before the order deadline.
Kendrick Solar filters featuring Baader film are famous for their exquisite sharpness and detail across the entire field of view in an eyepiece and have a very pleasing and comfortable image brightness.
Kendrick Astro Instruments manufactures more models, bar far, than any other solar filter manufacturer. From the largest telescopes, to binoculars and camera lenses, we have a model to fit your application. All models use nylon thumb-screws to secure the filter to your telescope/lens. Nylon is a soft material and will not scratch not scratch or mark the finish on your telescope, binoculars or camera lens. Unlike the other brands' "friction fit" system, our fastening system allows the use of a larger frame which increases the clear aperture area for unobstructed full field of view.
Baader film is incredibly tough and does not break or tear easily. To puncture it with a blunt object takes a lot of force, much more force that would be used in normal day to day useage.
Unlike glass filters, Baader film does not have a perfect cosmetic surface. Wrinkles, folds, kinks, pinholes and other imperfections in this film are normal and will be present on any Baader film solar filter purchased from us. These do not affect the image quality or safety of the filter. In fact, most experienced solar observers say that "wrinkles" improves image contrast. Pinholes, even at full solar intensity, work as a camera obscura. This means that each pinhole would project its own solar image, just like eyepiece projection. Anyone expecting or requiring a perfect cosmetic filter surface should consider another manufacturer's filter.
Are you ready for the next Solar Eclipse?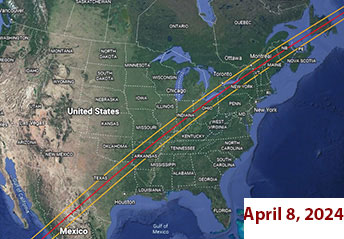 Don't wait until it's too late! Astronomers in North American are already counting down the days until the next big solar eclipse event. The April 8, 2024 total eclipse, with a "path of totality" that will extend through the entire continent will test our ability to supply the demand for SOlar FIlters.
Just like the Aug 2017 event, many of you are going to be disappointed because you waited too long to order a Solar Filter. We are gearing up for heavy demand, but with so many filter models, we can't predict which models will sell-out early. Procrastination means lost opportunity, as well as increased prices needed to service such a high demand. Prices and shipping charges will go UP as the date looms closer! Don't be disappointed, order NOW.
Deadline for ordering is March 22, 2024. Even then, we cannot guarantee that your filter will arrive on time, or if it will even be in stock. So, don't be disappointed. ORDER NOW!!
Who uses Kendrick Solar Filters?
Kendrick Solar Filters are literally "out of this world". You will find Kendrick Solar Filters all over the world and even in orbit! We've even made 3 trips to space onboard the International Space Station. Our filters use Baader Solar Film renowned for its excellent contrast and safety. Of course, thousands of us "terrestrial" dwellers also use Kendrick Solar Filters on our telescopes, binoculars, and camera lenses.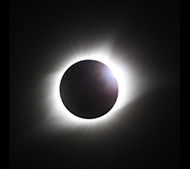 Kendrick Solar Filters are perfect for visual observing AND photograpy. In fact, Kendrick filters, made with Baader Solar Film (white light) filters are the best type to use for eclipse and transit events.This photo, taken by a Kendrick employee during the 2017 Eclipse used a Kendrick Solar Filter on a Televue NP101is Refractor telescope:
Helpfull Guides and Videos