Prices are Canadian (CAN) dollars. For non-Canadian orders,
the exchange rate will be determined by your credit card company
or financial institution when your order is processed. US Prices are approximations based on the average exchange rate of the day.
Kendrick Premier Controller Old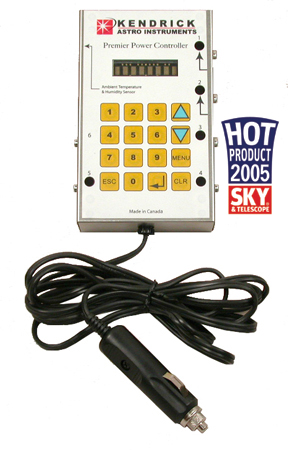 This digital PREMIER POWER CONTROLLER is still the most advanced dew controller ever made available to amateur astronomers but is being replaced by our newer version which is due to be released in 2014.
Accessories for this product are still available and will continue to be available for the foreseeable future.
For you astro imagers out there, this controller is completely RFI (radio frequency clean) free.
Since the introduction of the Kendrick Dew Remover System in 1994, we have had many requests for a more advanced controller. These customers have wanted more control over the heaters on their telescopes. We have taken it one step further and have provided a platform that will offer centralized power management of telescope accessories and dew prevention heaters.
Now, various devices, accessories and heaters can be powered and controlled from one central device. Now, not only heaters, but accessories such as Dobsonian cooling fans, digital setting circles, illuminated eyepieces, Telescope motor drives, Astro Systems Dewguard secondary mirror heaters, motorized focusers etcetera can be powered from the controller (Some plug modification may be required).
When used for dew prevention, the PREMIER POWER CONTROLLER is programmable over a number of different parameters explained under Programmable Functions.
The controller's many new features are:
Built in low voltage cut-off (a Kendrick standard!) Outputs 1 through 5 only.
RFI (radio frequency interference) free. Absolutely necessary if you are into digital imaging!
LED display.
LED brightness control.
Temperature/Humidity sensing and control on two outputs.
Your choice of Fahrenheit or Celsius operation.
6 outputs (2 of which are constant on).
LED power on indicators for outputs 1 through 5.
Outputs 1 through 4 are individually programmable.
Numerical Keypad entry of operating parameters for utmost control of your settings.
Remote control, programming and monitoring capability (optional software purchase required).
Sensor readouts to show ambient air temperature, optic temperature, dew-point temperature, humidity in %, battery voltage.
The ability to enable or disable outputs (output #6 cannot be disabled).
The ability to save up to 4 different configurations.
Mosfet transistors built on board (no voltage drops!) and on all outputs. Get the best possible performance out of your heaters!
A beautiful brushed stainless steel case.
An optional brushed stainless steel cradle that connects to your tripod or Dobsonian telescope.
Temperature sensors are calibrated in house by Kendrick.
The 2002 Premier Power Controller Package includes:
The controller itself
One temperature/humidity sensor for sensing ambient air temperature/humidity.
One temperature cable for sensing optic air temperature. Additional cables may be purchased.
A lanyard for hanging the controller.
An instruction manual.
Programmable Functions - The Premier Controller is programmable in the following parameters:
Duty Cycle. Outputs 1 through 4 can be individually programmed to operate anywhere from 10% to 100% on.
Temperature variance. Outputs 1 and 2 can be individually programmed to operate within a user specified temperature variance (i.e.: 5º above air temperature).
Dewpoint variance. Outputs 1 and 2 can be individually programmed to operate within a user specified temperature variance (ie: 5º above dewpoint).
Set temperature. Outputs 1 and 2 can be individually programmed to operate at a user specified set temperature. This function is useful if you have a device that needs to kept at a specific temperature for optimal performance.
Outputs 1 and 2 can be programmed to mirror one another. For example, if output #1 has been programmed to operate at 7º above dewpoint, then output #2 would come on and turn off at the same time as #1.
Enable/Disable. Outputs 1 through 5 can be set to on or off at any time. This is useful if, for example, you are running fans to aid in cooling your optics and you want them shut off.
LED brightness. The LED Display can be set anywhere from a low setting for nightime use to bright for daytime use.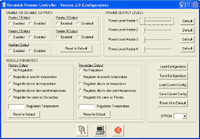 Remote Control
We have developed software that will allow the controller to be programmed and monitored remotely from a PC. You have all the usual programming functions available to you and the software has an intuitive user interface that makes it easy to program and monitor the controller. The software will create a log file that can be imported into a spreadsheet program. This is useful should you have any reason or need to determine the operational functionality of the controller or heaters.
Downloadable upgrades for the software will be available on-line.
The software is an option and is not provided with the controller. We provide the necessary cable to connect the controller to your computer. You can extend the reach of the cable using a standard telephone extension cable.
System Requirements for this software are:
PC with a Pentium-class processor with available COM port. Pentium 90 or higher processor recommended.
Microsoft Windows 98 or later operating system. Microsoft Windows NT 4.0 requires SP3 or later.
24 MB of RAM (32 MB recommended).
Hard-disk space required: 10 MB.CD-ROM drive.
VGA or higher-resolution monitor; Super VGA recommended.
VB6 SP5 runtime environment (included).
Cross-over RS232 cable (included).
Kendrick PREMIER POWER CONTROLLER

Premier Controller Remote Control Software - Version 2.1
Please follow these instructions to download and install the new Premier Controller software. Contact us at 1-800-393-5456 if you have any problem with installing the program. We recommend that you print this page to use for easy reference.
If you are a current user and have the previous version of the software installed then you first have to uninstall the old version through the Add or Remove Programs in the Control Panel folder.
Click on dewcontrol.zip from the downloads table and save the program to your local hard drive.
Double click on the downloaded file to extract it to the directory of your choice.
Execute the program setup.exe from within the directory to where the file was extracted.
Follow the on-screen instructions to finish the installation of the program.
Premier Controller Manual (PDF)
Premier Controller Remote Control Software (ZIP)
Premier Controller Remote Control Software User Guide (PDF)
NOTE: This application requires the special crossover RS232 cable that is used to connect the controller to your computer. You can either order the cable from us (2002-RS232), or you can make up your own able using the pin-out description in the following diagram: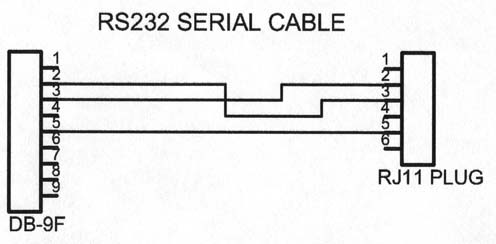 Recommended Settings & Configurations
The PREMIER POWER CONTROLLER comes with a factory default settings of outputs 1 to 4 at 75% duty cycle and the temperature display in Celsius.
Temperature Variance: Initially use a variance of 5 to 7º F when programming outputs 1 or 2 to function at a temperature above ambient or dewpoint.
| | | | |
| --- | --- | --- | --- |
| SKU | Description | Price | |
| 2002-BK | Replacement Instruction Manual | CAN $5.00 | |
| 2002-CD | Premier Controller Remote Control Software includes 2002-RS232 cable, Normally $147.00 | CAN $120.00 | |
| 2002-CP | Leatherette pouch for the Premier Controller. Normally $32.00 | CAN $53.00 | |
| 2002-DOB-ADA | DOB Cradle (Holds Premier Controller to Dobsonian rocker or mirror box) | CAN $25.00 | |
| 2002-RS232 | 2 foot RS232 cross-over Cable | CAN $18.00 | |
| 2002-SCBL-4 | Optic Temperature Sensor for Premier Controller with 4' lead wires | CAN $82.00 | |
| 2002-TPD-ADA | Tripod Cradle (Holds Premier Controller to a tripod leg) | CAN $54.00 | |